About
About
Prairie Christian Academy (PCA) is a non-denominational, Christian school for Preschool to Grade 12 students. Located in beautiful Three Hills, Alberta, Canada, the school boasts an enrollment of approximately 350 students, a full-service dorm program, vibrant Fine Arts program, competitive athletics and above all, Christ-centred education. This website will give you a glimpse into the school's programs, history and ministries. Enjoy your visit!
History of Prairie Christian Academy

Now under the name of Prairie Christian Academy, Prairie General Education has been operating since 1938 as a ministry of Prairie College. Back then, Prairie's founder, J. Fergus Kirk was concerned that his children and others in the community had a Christ centered education. Growing from the original class of 11, PCA now has approximately 350 students in its pre Kindergarten to Grade 12 programs. Students have come from all over the world to study in these halls and graduate into hundreds of vocations and careers.

In September 2003 steps were made to form Prairie Christian Academy, an alternate school under the Golden Hills School District. This decision not only increased resources for our educational system, but also gave the primary stakeholders – the parents – more of a governing position in their children's education. The distinctive of Biblically based teaching and discipleship is still the cornerstone of Prairie Christian Academy. We embrace the godly heritage that is ours, and look forward to the future of continuing to provide quality education that is fully integrated with God's word and Christian principles.
Where in the world is Prairie Christian Academy?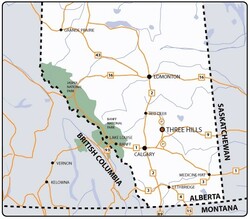 Nestled in the heart of the Canadian prairies, Prairie Christian Academy is located in Three Hills, Alberta – about 140 kilometres (85 miles) from Calgary. The street address is 411 - 11th Ave NE and the mailing address is P.O. Box 68 T0M 2A0.

Three Hills is an agricultural community of approximately 3,300 residents. Although small in size, it has many amenities such as a large indoor aquatic center, fully staffed hospital, hockey arena, and many shopping and financial institutions.

Students are able to come to Prairie Christian Academy and study without the distractions of urban life in this safe and quite environment. To learn more about Three Hills, check out the Town of Three Hills web site.